Reading Irish Centre, 96-104 Chatham Street, Reading. RG1 7HT.
Opening hours:
Monday – Thursday: 12pm-10pm, Friday & Saturday: 12pm-1am, Sunday: 12pm-10.30pm
There aren't many places left to drink in town that are a little bit intimidating. Sure, there are a few you wouldn't consider going into, but that's less to do with them being mysterious or menacing and more just down to the quality. The one central pub that does spring to mind in terms of semi-intimidation is The Bugle. For fans of vaguely daunting pubs, it looks like bad news, though. Rumour has it that The Bugle's last post may be in earshot. 😢
Without The Bugle or The Horn (which closed recently), the town centre will be even more devoid of old school pubs. And with The Nag's and The Allied – thankfully – being high quality, popular and approachable, that leaves only really The Sun left to give off any faint whiffs of scary pub. And The Wishing Well out west (and maybe The Pheasant southwards). Of course, there's very little to be actually scared of in those boozers, but that's not really the point. It's all about the frisson…
There is one place, though. Not technically a pub but a members club, there's The Reading Irish Centre.
We'd walked past it hundreds of times, fantasising about what it might be like inside. Could it be a genuine little slice of Gaelic life? Like 2021 Dublin? Or a terrifying little enclave of all the negative things someone slightly xenophobic might imagine? Like the Belfast of 1981?

Alright 300+ words is more than enough for an intro. This isn't a review of the bench outside Clay's Hyderabadi FFS.
Location
Part of this place's vaguely threatening ambience comes in its locale. Let's face it, very few Michelin star restaurants would look at sites next to an amateur boxing club off the Occy Road.
The upsides to where the club is found are obvious: it's only a couple of minutes walk from the Sainsbury's end of Friar Street, for starters. Better than that, it's slap bang opposite one of Reading's most underrated pubs, The Butler. And, slightly less importantly, The Facebar. One day we'll have to tell you about the porno we heard was filmed in Facebar. Remind us.
Whass da craic?
Some of the relative mystique of the Irish Centre is that its 'a members club'. At least it is technically, anyway. They've had historical issues with membership and fighting ('but that's enough about Da Troubles', etc.). With licence reviews and police complaints over supposed brawls and admittance of non-members making the local news sites back in 2019.
You need to be a member to get in. We got in. Are we members? Oh, well, of course. We wouldn't have got in otherwise, would we…?

Hmmm?
So, yeah. If you want to pop in and give this club a whirl, you'll need to sign up. How do you do that? How much is it? No idea whatsoever. Sorry. 👀
That said, you are allowed in as a guest of a member. Now, we're members, of course. As we said (and you can't prove that we're not). But were we not members, we may well have been able to get in as 'friends of Angela', as we were told by a lady in the smoking area on our way in. A lady we later learned was not called Angela. Was this some kind of code? We never found out. But we have our suspicions. Still, lovely lady. Gave us all a kiss on the cheek later on, she did.
The Booze & Prices
Drinks are kept to the stable offerings you'd expect, but provided you're not likely to cry because you can't buy 1/3 of a pint of Siren's latest Creme Egg flavour session IPA, you'll be fine.
It's the prices, though. THE PRICES. We're got fluthered on rounds of the grand drinks you can see below. A pint of Guinness, a 500ml bottle of Guinness Original and a pint of Kronenbourg came to a quite incredible £7.50.

SEVEN POUNDS FIFTY!
Food
They have them, don't worry…
Entertainment
We visited the Irish Club on a Saturday night. So while there's no guarantee weekday evenings have live music or shows on, you can be fairly confident to hear the classics of a weekend. When we were in, a fella called Dan McHugh was railing through the Irish standards. Although, we have to say, we don't remember hearing Danny Boy or Galway Girl. Maybe those are songs for the tourists.
For entertaining yerselves with pub sports, there are a couple of dart boards and a decent pool table with plenty of space on all sides.
Outside smoking area
Aye, there's a no-frills section by the front door with benches and gazebos and the like for smokers.
Here are some very poor photographs of what we're talking about:
Sports
There was a TV by the bar showing Sky Sports (not sure about BT). It was football and then a bit of boxing on the evening we were in. But there's no saying that Irish sports don't take precedence. So if you stroll in of a Sunday lunchtime expecting to watch the Southampton vs. Leicester game, don't be surprised to instead have to watch 40 men in green tops whacking each other to death with bats while on horseback, or whatever weird and terrifying sports it is the Irish are into.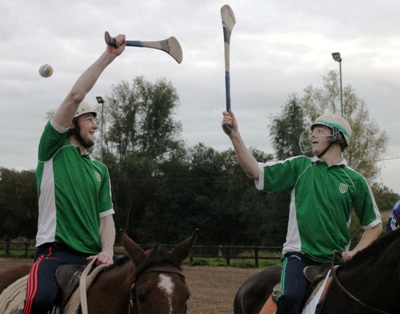 Punterwatch
We made a wee joke earlier about the demographic of the Irish Centre. You may not have laughed, but it was a joke. Anyway, you don't really need to be told that an Irish Club is likely to have a lot of Irishmen in it. And their wives (of a weekend, we'd suggest). It's not a prerequisite, though. There were plenty of English folk down there as well. Of a certain age, as you'd expect. As it should be.
Atmosphere
You're greeted with a friendly welcome as you enter and there seems to be a decent hubbub about the place of a weekend. Accommodating locals, alert and charming staff, a bit of music and people milling about, the place has character and a pleasing feel to it.
C O N C L U S I O N
We went in a little tentatively, we staggered out pissed and pleased. And with almost as much money as we cautiously tiptoed in with. Friendly staff and locals, the kind of rousing entertainment you'd hope for, darts, pool and incredibly cheap booze. It's a good craic, so it is. For members (and friends of members, that is). You can't just waltz in without membership, y'know. Unless you're friends with a certain lady, of course.
Sláinte!